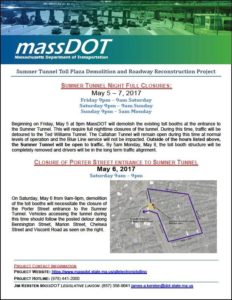 SUMNER TUNNEL NIGHT FULL CLOSURES:
May 5 – 7, 2017
Friday 9pm – 9am Saturday
Saturday 9pm – 9am Sunday
Sunday 9pm – 5am Monday
Beginning on Friday, May 5 at 9pm MassDOT will demolish the existing toll booths at the entrance to the Sumner Tunnel. This will require full nighttime closures of the tunnel. During this time, traffic will be detoured to the Ted Williams Tunnel. The Callahan Tunnel will remain open during this time at normal levels of operation and the Blue Line service will not be impacted. Outside of the hours listed above, the Sumner Tunnel will be open to traffic. By 5am Monday, May 8, the toll booth structure will be completely removed and drivers will be in the long term traffic alignment.
CLOSURE OF PORTER STREET ENTRANCE TO SUMNER TUNNEL
May 6, 2017
On Saturday, May 6 from 9am-9pm, demolition of the toll booths will necessitate the closure of the Porter Street entrance to the Sumner Tunnel. Vehicles accessing the tunnel during this time should follow the posted detour along Bennington Street, Marion Street, Chelsea Street and Visconti Road as seen on the right.
PROJECT CONTACT INFORMATION