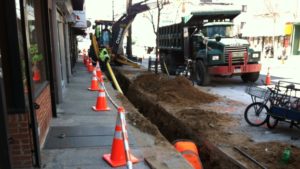 Here is an update for the next week:
Crew 1
5/5 to 5/12  The crew will saw-cut new sections of Pleasant Street from Bartlett street to Woodside Ave and will continue to install new main until the end of next week.  Pleasant Street will stay accessible to everyone.  The crew on Pleasant Street will not be shutting down any side street off of Pleasant street unless instructed by the detail officers onsite.
Crew 2
5/5 to 5/12- The crew is installing main on Somerset Ave.  Right now the crew installed main up to house number 75 and will complete Somerset Ave by Tuesday Next week with main installation.  The crew will then start installing more main on Cottage Park starting Wednesday into Saturday.  Somerset Ave is shut down by the detail officers, we have an officer at each end detouring traffic and allowing access to residents.
No crews will be working on Pleasant Street on Saturday.  Only one crew will be working and they will be on Somerset Ave.