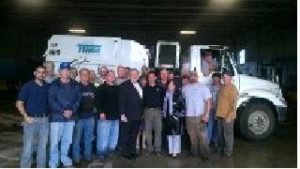 The Town of Winthrop conducts Street Sweeping operations on the last full week of the month (last week with a Friday) from April through October between 7:00 AM and 4:00 PM on the day of a street's trash collection.  If there is a holiday on the week sweeping would normally occur, sweeping is done a week early.
Town ordinance prohibits parking in a manner that impedes the street sweeper.  Violation of the street sweeping ordinance carries a $40.00 fine, and your vehicle can be towed.
The 2017 street sweeping dates are:
April 24-28
May 22-26
June 26-30
July 24-28
Aug. 21-25
Sep. 25-39
Oct. 23-27
For your convenience, a printable calendar of the 2017 street sweeping dates is available for download here.
For a map of the street sweeping days, please click here.
For the complete language of the street sweeping ordinance, please click here.
The DCR has announced that street sweeping operations on DCR roadways will begin on Monday, April 3.  Both Winthrop Shore Drive and Winthrop Parkway are DCR roadways.  These sweeping operations are conducted by the DCR independently of the Town of Winthrop.  DCR states that both of their roadways in Winthrop conduct sweeping operations on the THIRD THURSDAY of the month between 8:00 AM and 12:00 PM from April through November.
Vehicles parked on Winthrop Shore Drive or Winthrop Parkway during their designated sweeping times may be ticketed and towed.  If your vehicle is towed from either of these roadways, please contact the Massachusetts State Police, Revere Barracks at 781-284-0038.  For the full text of the DCR announcement, please refer to the attached document, or click here.